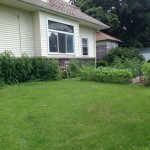 Why Purchase your Mortgage Protection Insurance from us?
When you borrow money, some lenders will offer life insurance to pay off the balance of the loan in the event of your death. This sounds like a great idea to protect your family, and it doesn't cost very much, so most people go ahead and take that option. What most people don't realize is that, in most cases, there is a better option.
When you purchase insurance from a lender, and you die, the lender will be the beneficiary. A lender is not allowed to receive any more than the actual payoff of the loan, so the death benefit decreases along with the balance of the loan. The premium, however, stays level through the entire term of coverage.
When you obtain your life insurance from us, your family receives the death benefit. They will decide if it is in their best interest to pay off the loan. The death benefit remains at the higher level for the entire term of coverage. And, in most cases, the premium will be less.
We work with hundreds of companies to offer you the most affordable mortgage protection insurance.