What is Long-Term Care?
Long-term care is a variety of serviced that includes medical and non-medical care to people who have a chronic illness or disability. Long-term care helps meet health or personal needs. Most long-term care is to assist people with support services such as activities of daily living like dressing, bathing, and using the bathroom. Long-term care can be provided at home, in the community, in assisted living or in nursing homes. It is important to remember that you may need long-term care at any age.
You may never need long-term care. This year, about nine million men and women over the age of 65 will need long-term care. By 2020, 12 million older Americans will need long-term care. Most will be cared for at home; family and friends are the sole caregivers for 70 person of the elderly. A study by the U.S. Department of Health and Human Services says that people who reach age 65 willl likely have a 40 percent change of entering a nursing home. About 10 percent of the people who enter a nursing home will stay there five years or more.
Medicare and Long-Term Care:
While there are a variety of ways to pay for long-term care, it is important to think ahead about how you will fund the care you get. Generally, Medicare doesn't pay for long-term care. Medicare pays only for medically necessary skilled nursing facility or home health care. However, you must meet certain conditions for Medicare to pay for these types of care. Most long-term care is to assist people with support services such as activities of daily living like dressing, bathing, and using the bathroom. Medicare doesn't pay for this type of care called "custodial care." Custodial care (non-skilled care) is care that helps you with activities of daily living. It may also include care that most people do for themselves, for example, diabetes monitoring. Some Medicare Advantages Plans (formerly Medicare + Choice) may offer limited skilled nursing facility and home care (skilled care) coverage if the care is medically necessary. You may have to pay some of the costs. For more information about Medicare Advantage Plans, look at the Medicare Plan Finder.
Medicaid and Long-Term Care
Medicaid is a State and Federal Government program that pays for certain health services and nursing home care for older people with low incomes and limited assets. In most states, Medicaid also pays for some long-term care services at home and in the community. Who is eligible and what services are covered vary from state to state. Most often, eligibility is based on your income and personal resources.
Why Should You Buy Long-Term Care Insurance?
It will help you keep your independence and dignity. Here's how. . . some of you will spend all your assets on care while others plan to give their money away or put it in trust. With no assets you will now qualify for a welfare program called Medicaid. Medicaid typically pays for a semiprivate room in a nursing home, and; not all nursing homes take Medicaid patients. In many states it's not easy to get Medicaid to cover home care or pay for assisted living. Many people want to stay at home, but with Medicaid may not be able to. And assisted living is rapidly becoming a preferred alternative to nursing home care for certain disabilities but Medicaid may insist on a nursing home instead.
A nursing home is not the most desirable place to finish out one's life. For many, a terminal stay in a nursing facility robs them of a purpose in life and strips away their dignity. As an example, have you ever thought of the indignity of being bathed, toiletted or diapered in a nursing home environment? No wonder many people express the desire to die before ever having to go into a nursing home.
For some conditions a nursing home is the only alternative, but for many long-term care patients there are more options than nursing homes. A good long term-care insurance policy covers those options and when all else fails, it pays for nursing homes too.
If you are married and you have a need for long-term care, your spouse may be forced to pay for an outside care giver. The cost is likely to come from your combined income and assets. If the need for paid care drags on too long, your spouse may be left with minimal cash assets for future needs.Insurance solves this problem and allows your spouse to keep the assets.
Many healthy care-giving spouses won't spend their money and choose to "tough it out" on their own without help. If care of a disabled spouse drags on too long, this can have a devastating effect on the physical and emotion health of the caregiver. Surveys reveal that even though healthy caregivers often don't spend their money for help, they will use insurance if available.Insurance allows the healthy caregiver to buy much-needed respite from paid professionals, while at the same time, retaining the assets and possibly avoiding an early death from the mental and physical stress of caregiving.
If your children or extended family promise to take care of you when the time comes, insurance will help them do that.Probably you nor your children have thought of the prospects of moving you from place to place, changing your dirty diapers, cleaning up after "accidents" in the bathroom or helping you with bathing and dressing. Insurance will pay for aides to help with these tasks.
If you are single and a need for long-term care arises, insurance can pay for and coordinate that care.With insurance you won't have to feel you would be a burden for family or friends.
If you have the desire to leave assets behind when you die, insurance will help preserve those assets from the cost of long term care.
Why Not Buy This Insurance When You're Older?
1. Don't forget that 43% of those needing long term care are under age 65. You may need it now.
Roughly every two years insurance companies come out with new policies. Although these policies contain many new benefits and features, they are also more expensive for new people signing up than the previous policy. Estimates are, because of this rate creep, new applicants for long-term care insurance are paying about 5% more each year than applicants at the same age would be paying with older policies. At this rate of increase, ten years from now, a policy for a 50 year old would cost 50% more than an equivalent policy for a 50 year old would cost today.
To get long term care insurance you must answer questions relating to your health. If you wait, you may develop a condition that would prevent you from obtaining coverage.
The cost of coverage increases with age. For younger ages you can get a rate that is relatively inexpensive. At older ages the rate becomes very expensive.
It costs less, over time, buying now than buying equivalent coverage in the future. The 20 year total cost of buying now is less than the 19 year total cost of buying next year, or the 18 year cost of the next year, and so on.
Why Not Invest the Premiums Instead of Buying Insurance?
The invested amount of premiums over 20 years, may be only 5% to 12% of the potential insurance benefit. A 6 year insurance benefit may only yield ½ year of long term care if the premiums are invested instead. Besides, if you invested premiums, where would the money come from if you needed long term care next year or even 5 or 10 years from now? The saved premium account wouldn't have time to grow.
Why Waste Money on Insurance if You Have Assets to Cover the Cost Directly?
The same question could be asked of auto, home owner's or medical insurance. Why not self-insure there as well? You could just as easily pay your medical bills from your pocket. Or pay for damage to your cars and loss of your home out-of-pocket and possibly save a lot of money over time? No matter what the risk, the total cost of premiums over a long period is usually a fraction of the cost of paying a claim from your own pocket. The purpose we buy insurance is to preserve assets by leveraging premiums to buy a benefit at pennies on the dollar instead of paying dollar-for-dollar out-of-pocket for a loss. The probability of a house fire is 1 in 1200, of having a major auto accident is 1 in 240 and of needing long term care is 1 in 2 . With a much higher probability doesn't long term care insurance make as much sense as buying those other coverage's?
Why Don't You Get Your Money Back if You Don't Use the Insurance?
This question always begs the underlying reason for it's being asked. In essence the person with this concern is thinking, "it won't happen to me, so it's a waste of money". To play to this objection, many carriers design policies with cash values, life insurance death benefits or return of premium at death. But these features increase premium cost and sometimes make coverage unaffordable. The same question could be asked of all insurance. Why don't we get a refund with term life, health, disability, commercial lines, auto, or homeowners insurance? People seem to take it in stride, paying $80,000 for auto insurance or $20,000 for homeowners insurance over their lifetime. Then when they make a claim, if they ever do, they get their coverage canceled or more likely their rates are increased to cover the cost of the claim. Yet, out of denial or ignorance they can't see why they should pay $40,000 over their lifetime for long-term care insurance where the probability for a claim is higher and the risk of loss is 4 to 10 times higher than the risk of loss with a car or home.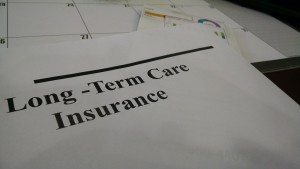 TYPES OF LONG-TERM CARE INSURANCE POLICIES
Stand-alone, comprehensive coverage policies represent the bulk of policies sold. These plans strive to cover all long-term care services and are usually purchased with monthly, quarterly, semiannual or annual premiums which are paid for the life of the insured. Abbreviated payment options are also available with policies fully paid up after 20 years, 10 years or 1 year of payments. Comprehensive stand-alone policies are very much like the typical modern group or individual health insurance policy. They try to cover as many different care alternatives as possible.
There are other ways to package long-term care insurance as well. One is as a rider to a cash value life insurance policy. The policy represents 2 separate coverages and the premium is split up to pay for both. This LTC rider should not be confused with the "accelerated death benefit" which is a popular feature of many modern life policies. Accelerated death pays part of the death benefit for terminal illness or doctor-certified, terminal, long-term care confinement while the insured is alive. Since very little long-term care could be certified as terminal, this policy feature is a poor substitute for "real" long-term care insurance.
Another way to package LTC insurance is as an "either/or" feature in life insurance. When the insured dies, a death benefit results. If the insured needs long-term care before death, stipulated benefits are paid instead of life insurance. If all benefits are paid before death, the policy expires. Any benefits not used result in a reduced pay-out at death. These policies can be purchased with periodic premiums for the life of the insured or with a single premium of $50,000 or more. These policies offer the advantage that the insured is guaranteed a benefit since everyone eventually dies. A disadvantage is that many people who purchase LTC insurance don't need life insurance, but because the policy needs to cover the mortality risk of death as well as the morbidity risk of LTC, premiums are much higher than an equivalent stand-alone LTC policy. Another disadvantage is that underwriting standards for life insurance are more strict than standards for LTC insurance. Many who qualify for LTC insurance would be denied coverage for life insurance.
A third way to package LTC insurance is to integrate it into a single premium deferred annuity. Again, this usually requires a lump sum of $50,000 or more. Part of the earnings on the annuity pay for the morbidity risk of the LTC insurance. Thus an annuity that would normally yield 6% might only yield 4% when combined with LTC insurance. One advantage of this arrangement is that LTC premiums are paid with tax deferred earnings but since they are expensed inside the policy, premiums become tax free. Another advantage is the perception that no money is lost to an LTC policy that may never be used. In fact the lump sum even grows larger. A major disadvantage is that the money is tied up. Removing money will kill the LTC coverage, yet few people have $50,000 lying around that they're willing to tie up and never use. In most cases it's better to fund a stand-alone LTC policy with earnings from a separate investment account. This leaves the account unencumbered. Pending federal legislation will also make investment income used for LTC insurance premiums tax free.
A fourth way to package LTC insurance is combined with a disability income policy. Prior to age 65, the policy can only be used for disability income. Premiums paid after age 65 provide long-term care coverage. Premiums for such a policy will be higher than a stand-alone disability policy since long-term care coverage requires a portion of every premium be set aside as reserve for future claim.