International travel can be an exciting adventure, but it can also bring many unpredictable situations if y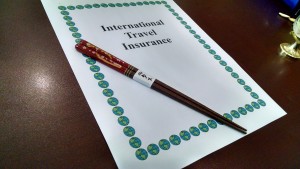 ou should need medical care while you're abroad. We provide US citizens and non-US citizens with international insurance resources to ease the stress of an unfamiliar culture or medical system. Whether you need individual coverage for a vacation, or group coverage for employees in locations around the world, our site has a product to meet your needs. By utilizing our SelectaPlanSM, we can quickly direct you to the plan(s) that will best meet the needs of you, or those of your family or organization. Below are product descriptions of the international plans we offer. You have the option of purchasing online or downloading an application and submitting the completed application via fax or mail.
Patriot Travel Medical Insurance
Individual & family (10 days up to 2 years coverage)Patriot Travel Medical Insurances
There are three Patriot Travel Medical Insurance products available to meet your needs, providing up to US
$2,000,000 of medical coverage. Coverage can be obtained from a minimum of 10 days up to a maximum of 2 years. Patriot products address the travel medical insurance needs of US citizens and foreign nationals who need temporary medical insurance while traveling for business or pleasure anywhere outside their country of citizenship. Coverage includes medical evacuation, repatriation, and your choice of deductibles and policy limits
Patriot Extreme Travel Medical Insurance
Patriot Extreme is designed for the adventurous international traveler. Patriot Extreme provides benefits for those traveling abroad who also intend to participate in a select group of athletic activities
Patriot Executive Travel Medical Insurance
Business traveler (annual coverage) 
If you are an executive that travels frequently outside of the United States/Canada throughout the year, don't risk finding yourself ill or injured in a foreign country. Make sure you have a plan that provides appropriate medical coverage. Patriot Executive provides up to US$1,000,000 of medical coverage for these individuals and their families while they are traveling outside of the United States.
Global Medical Insurance
Business traveler (annual coverage) 
Global Medical Insurance is a long-term, annually renewable, US-style major medical insurance plan with a $5,000,000 lifetime policy limit. Global Medical Insurance is designed to provide worldwide coverage to non-US citizens and to US expatriates who want a quality medical insurance plan that will respond to their medical needs anywhere in the world
GEOsm Group
GEO Group is one of the most comprehensive group hospital, surgical, medical and life insurance programs in the world. This program is designed for employers with employees who are either US or Canadian citizens who reside abroad and may return to the US or Canada temporarily (for less than 12 months), or are overseas local and third country national employees. GEO Group allows employers to carve out their international employees to provide them with US-style benefits and worldwide coverage. This program includes medical, dental, life and indemnity benefits for these employees and their families.
Contact Us to Request A Proposal!
Patriot Group Travel Medical Insurance
5 or more individuals (15 days up to 1 year) 
Patriot Group Travel Medical Insurance is designed for organizations who have a group of 5 or more members that will be traveling together, and are traveling to a destination that is not the country of citizenship of any of the traveling members. Patriot Group Travel Medical Insurance provides the same benefits as the individual Patriot Travel Medical Insurance but with a 10% discount for applying as a group.
The information above is only a consolidated description of current international insurance products available through this web site. Please refer to the policy wording for the specific terms and conditions of each plan concerning eligible benefits, limitations, eligibility and exclusions. Policy wording is available upon request. IMG, International Medical Group, the IMG block design logo, Patriot Travel Medical Insurance, Global Medical Insurance, Patriot Executive, GEO Group , and Patriot Group Travel Medical Insurance are the trademarks, service marks and/or registered marks of International Medical Group, Inc. Copyright 2006 International Medical Group, Inc. All Rights Reserv